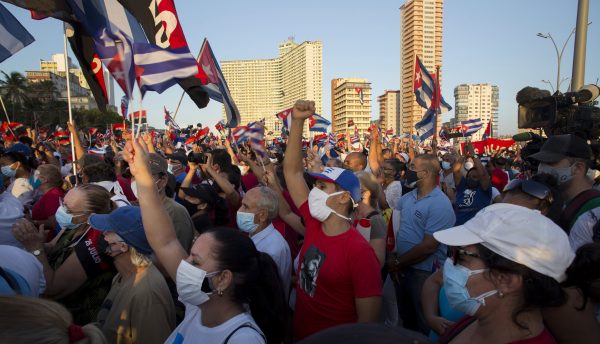 How China Helps the Cuban Regime Stay Afloat and Shut Down Protests
On July 11, thousands of people across Cuba took to the streets, fed up with the lack of food, basic products, medicine, and vaccines to combat COVID-19. They were the first large-scale demonstrations in Cuba since 1994, and the largest since Fidel Castro took power in 1959. Protesters used social media to broadcast to the world what was happening, but the communist regime shut off the internet and telephone services, pulling the plug on their connection outside the island.
The key to the regime's ability to do so was China. Chinese companies have played a key part in building Cuba's telecommunications infrastructure, a system the regime uses to control its people, just as the Chinese Communist Party (CCP) does within its own borders.
When the protests began, U.S. Senator Marco Rubio tweeted: "Expect the regime in #Cuba to block internet & cell phone service soon to prevent videos about what is happening to get out to the world… By the way, they use a system made, sold & installed by #China to control and block access to the internet in #Cuba." An article in Newsweek discussing Beijing's possible links with the censoring of Cuba's protests noted that the primary technology providers for Etecsa, Cuba's sole internet access company, are all Chinese: Huawei, TP-Link, and ZTE. A 2017 report by the Open Observatory of Network Interference found traces of Chinese code in interfaces for Cuban Wi-Fi portals. The Swedish organization Qurium discovered that Cuba uses Huawei network management software eSight to help filter web searches. China's role in helping the regime cut off communications during the protests has exposed one of the many ways Beijing helps keep the Cuban communist regime afloat.
China's Interests in Cuba
China was also arguably deterred in its dealings with Cuba by the United States' strong reaction to the Soviet deployment of missiles in Cuba in 1961. The incident, well known in China, was a cautionary tale that suggested that the U.S. would not tolerate China getting too close to Cuba. Doing so would have potentially risked China's broader goals of building a strong and wealthy state through commercial dealings with the U.S., including financial interdependence, investment by Western companies, and access to U.S. technology.
After the Soviet Union collapsed and Soviet aid to Cuba abruptly ended, China stepped up support. High-level government officials from China have visited Cuba 22 times since 1993; Cuban high level government officials have visited China 25 times since 1995. During a visit to the island in 2014, President Xi Jinping said, "The two countries advance hand in hand on the road on the path of the construction of socialism with its own characteristics, offering reciprocal support on issues related to our respective vital interests."
China recognizes Cuba's geostrategic importance. Due to its position in the Caribbean, Cuba can exert influence over the southeastern maritime approach to the United States, which contains vital sea lanes leading to ports in Miami, New Orleans, and Houston. Author George Friedman has argued that, with an increased presence in Cuba, China could potentially "block American ports without actually blocking them," just like U.S. naval bases and installations pose a similar challenge to China around the first island chain and Straits of Malacca. Cuba's influence in the Caribbean also makes it a useful proxy through which Beijing can pressure the four countries in the region (out of the 15 total globally) that recognize Taiwan to switch recognition.
China's Economic Support to Cuba
China helps sustain the regime through economic engagement. It is Cuba's largest trading partner, according to China's Ministry of Foreign Affairs, and is Cuba's largest source of technical assistance. China's imports from Cuba initially concentrated on sugar and nickel, including a proposed $500 million Chinese investment in Cuba's nickel industry that ultimately fell through. The Chinese company Greatwall Drilling (GWDC) has also partnered with Cuba's national petroleum company, Cupet, in extracting oil near Pinar del Rio, although a larger $6 billion project to upgrade the Cienfuegos oil refinery also never came to fruition.
When the United States began opening up to Cuba under the Obama administration in 2014, China recognized the potential for a more robust relationship with Cuba, and raced to catch up. Chinese firms secured a project to expand Cuba's Santiago container terminal, funded by a $120 million Chinese bank loan. Chinese biopharmaceutical firms have set up operations in Cuba's Mariel Free Trade Zone. China has even set up an artificial intelligence center on the island.
In November of 2018, Cuba signed on to China's Belt and Road Initiative. In the agricultural sector, Chinese companies are increasing sugar and rice production, improving irrigation to boost crop yields, and providing tractors to plow Cuban fields. Beijing Enterprises Holdings is building a $460 million golf resort on the island.
Chinese influence on the island doesn't end there. Cubans are now traveling with cars from Geely, trucks from SinoTruck, and buses from Yutong. The company Haier now sells appliances and electronics to Cuba, including the establishment of a computer assembly plant and renewable energy research facility on the island. China's Jilin province and the city of Changchun have cooperative relations with Cuban biopharmaceutical companies. Cuba was one of the first official destinations for Spanish-language training for Chinese personnel in the hemisphere. Reciprocally, the University of Havana was one of the first Confucius Institutes established by China in the region. And the two maintain close defense relations, including regular institutional and senior leader visits, and a Chinese ship visit to the Port of Havana in 2016. China has not, however, sold Cuba any significant weapons systems, as it has done with other states in the region such as Venezuela, Ecuador, and Bolivia.
Traces of China's "Digital Authoritarianism" in Cuba and Beyond
China's contributions to Cuba's telecommunications development were "firm as a rock in midstream," according to a 2016 article by China Business Network. Cuba's ALBA-1 undersea cable linking the island's telecommunication architecture to South America through Venezuela was partially financed and constructed by Chinese companies. In 2000, the Cuban government signed a contract with Huawei to set up fiber optic cables throughout the island. In recent years, as noted previously, Chinese companies like Huawei, ZTE, and TP-Link have further solidified their crucial role in providing Cuba's internet, including hotspots, telephones, and other infrastructure across the island – the same infrastructure the regime blacked out to squash protests last month.
This is just one example of China exporting "digital authoritarianism" to illiberal regimes across the region. In Venezuela, Chinese telecommunication firm ZTE helped the Maduro regime establish the "fatherland ID card" system, which it used to control not only voting, but the distribution of scarce food packages (the famous "CLAP" boxes), and more recently, COVID-19 vaccines. Similarly, in 2020, the U.S. Department of the Treasury's Office of Foreign Assets Control sanctioned China National Electronics Import and Export Corporation for supporting the Maduro regime's efforts to conduct digital surveillance and cyber operations against political opponents.
The shift in the strategic environment in the region, worsened by the health, fiscal, economic, and political strains of the COVID-19 pandemic, are increasingly evident. Leftist authoritarian regimes are consolidating control in Venezuela and Nicaragua. The populist left has returned to power in Bolivia in the form of the MAS party, in Argentina with the Peronists, and in Mexico with Andres Manuel Lopez Obrador and the Morena movement. In Peru, the recent election of Pedro Castillo, a teacher from Cajamarca with a radical left agenda, similarly raises alarm bells. Upcoming elections in the region raise the prospects for an even broader spread of the populist left, including the prospect of victory by Xiomara Castro in November 2021 elections in Honduras, a President Petro emerging from Colombia's 2022 elections, or the return of Lula da Silva and his Workers' Party in Brazil's October 2022 elections.
China's continued efforts to prop up the Cuban regime matters to U.S. national security. For both good and bad, Cuba is connected to the United States through geographic proximity, historical connections, and family ties. The U.S. government has long focused on violations of the freedoms and human rights of the Cuban people, and continues to work to improve their situation. By sustaining Cuba, China indirectly serves as an incubator of authoritarianism in the region, providing resources to such regimes as they consolidate power, change constitutions, move against private property and democratic institutions, and silence internal dissent.
Cuba could also be an area from which China could gather intelligence and conduct cyberattacks against the United States. Currently, the U.S. Justice Department is investigating members of China's Ministry of State Security for sponsoring cybercrime and other cyber activities including the recent hack of Microsoft, laying bare China's malign intent against the U.S. in cyberspace.
How the United States Can Respond
In the face of the challenges posed by China's support to Cuba and other authoritarian regimes in the region, U.S. policymakers should consider the following:
First, the United States should give more attention to the strategic competition with China unfolding in Cuba and the region in general. As Gordon Chang recently wrote in Newsweek, we must realize that "America… is involved in a ferocious struggle everywhere. After all, the battle between dictatorship and democracy, which is not going well at the moment, is global."
Second, the U.S. should not try to "block" Latin American partners from conducting business with China. Attempting to do so is not possible in a region of sovereign states with ever-growing commercial ties with China. Indeed, the region has been hit especially hard by COVID-19 and will need more commercial engagement from large countries like China to recuperate. Instead, the U.S. should concentrate on helping partners in the region to engage with China in the most healthy, productive ways. For example, an emphasis on transparency inhibits the ability to engage in corrupt backroom deals with the Chinese that benefit the elites signing the deals rather than the country as a whole.
The United States should involve greater support for "good governance" initiatives, including helping partners to more effectively plan and screen investments in critical infrastructure, conduct technically sound evaluations of public auctions, and strengthen legal systems and enforcement to ensure that Chinese and other firms follow nations' laws and their contractual commitments. This will partly insulate partners from more predatory activities. Such support will also help to convince local citizens, many pessimistic about their governments, that democratic governance, based on market principles, can indeed deliver benefits, address inequalities, and improve living conditions.
As illustrated by the Cuban case, the telecommunication industry is a particularly sensitive area where China could challenge the ability of partner nations to make sovereign decisions and resist the pressures of authoritarianism. However, the U.S. and its partners must provide viable alternatives to the Chinese systems Washington is asking its partners to turn away from. To that end, the United States should look to like-minded democratic nations and their leading companies in the space, such as Nokia (based in Finland) and Ericsson (in Sweden). Institutions like the U.S. Development Finance Corporation and the Inter-American Development Bank can help partner nations finance such alternatives.
With respect to cybersecurity, the United States should similarly look to increase support to partners in protecting their citizens' privacy and security from malign actors like China. The cybersecurity training provided U.S. Southern Command to its partner nations could be one part of the solution in this regard.While recent events in Cuba show China's growing influence in the region, the CCP's emphatic support of the Cuban regime's repressive acts also highlights that it is on the wrong side of history. The U.S. must deepen partnerships with Latin American and Caribbean friends, based on shared values, in order to ensure that the region remains secure, prosperous, and free.
The views expressed in the article are those of the authors and do not necessarily reflect those of the U.S. government.
Leland Lazarus and Evan Ellis, "How China Helps the Cuban Regime Stay Afloat and Shut Down Protests," The Diplomat, August 3, 2021, https://thediplomat.com/2021/08/how-china-helps-the-cuban-regime-stay-afloat-and-shut-down-protests/.