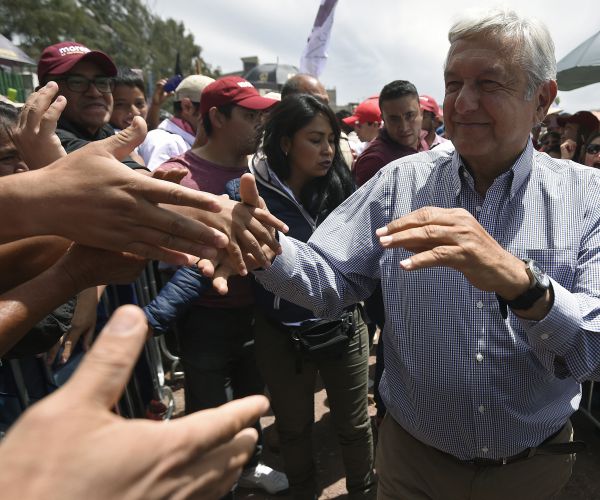 Mexico Likely to Elect 'AMLO' President--How Will It Impact the Region
Barring unforeseen circumstances, the left-leaning populist Andres Manuel Lopez Obrador (AMLO) will be the next president of Mexico.
Some Mexicans, mindful of the power of the political machine of the long-dominant Institutional Revolutionary Party (PRI), believe that the party's ability to mobilize activists or perform political dirty tricks will prevent that outcome. Yet with just weeks to go in Mexico's July 1 one-round vote, barring dramatic circumstances or a Brexit-style difference between the polls and who Mexicans actually choose, AMLO's 17-point lead is probably insurmountable.
AMLO's victory has long seemed improbable, given that the PRI fielded one of Mexico's most competent, experienced, and seemingly uncorrupt technocrats against him, Jose Antonio Meade, while the country's other two principal parties, the PAN and PRD joined forces behind the charismatic young Ricardo Anaya. Yet Meade has not managed to inspire Mexicans, while the manner in which Anaya captured the nomination from Margarita Zavala, the wife of Mexico's previous president Felipe Calderon, created deep divisions.
AMLO's seemingly inevitable victory reflects the interaction between domestic factors, and Donald Trump. On one hand, with homicides in Mexico reaching record levels, Mexican voters have become convinced that neither the PAN (of prior President Felipe Calderon), nor the PRI (currently in power) can solve the endemic problems of criminality and corruption. At the same time, the rhetoric and actions of the U.S. president, from derogatory comments about Mexican immigrants, to the border wall, to the renegotiation of the North American Free Trade Agreement (NAFTA) and the imposition of tariffs on Mexican goods, has made AMLO's critical posture toward the U.S. seem ever more reasonable.
The implications of the likely AMLO victory are profound, but not because he is an irresponsible radical, but due to the combination of obstacles and opportunities his proposals will meet. His presidency may contribute to the deepening of Mexico's security crisis and economic challenges while enabling new Mexican leadership in Central America and the Caribbean with a tone uncomfortably critical of the U.S.
Although left-leaning with populist tendencies, AMLO demonstrated pragmatism in governing Mexico City, yet the country is a far different challenge. The persons he has proposed for his leadership team, while often respected and experienced (e.g. former Supreme Court justice Olga Sanchez as Interior Minister), are sometimes years removed from Mexican politics, raising questions about the dynamics of an AMLO government, particularly in the face of profound challenges.
AMLO's proposals for institutional change, such as eliminating the intelligence service CISEN and putting the secret service under the Army, while not unlike what PAN President Vincente Fox attempted as Mexico's first PAN president after seven decades of PRI rule, will likely be blocked by legal and political obstacles, even if his new MORENA party wins a majority in both houses of Mexico's Congress (as a May 2018 Mitofsky poll predicts).
In the security arena, as expanding cocaine production in Colombia, synthetic drugs from China, and the opioid epidemic in the U.S. fuels expanded criminal violence in Mexico, the AMLO administration will face the challenge as it struggles to repair a hobbled law enforcement system, limited police capabilities, less and more restricted military support, and reduced cooperation with the U.S.
Without serious new initiatives, the AMLO administration fight against crime and cartels will be undercut by the incomplete state-level police reform (Mando Unico) and a scaled-down effort to create a national military police (Gendarmerie) that he inherits. Complicating matters, some have questioned whether his proposed security minister, Alfonso Durazno will be up to the job.
Limitations in police capability will add importance to whether the person AMLO appoints to head of the Mexican Army (SEDENA) (possibly Audomaro Martinez Zapata) has the same commitment as current head General Salvador Cienfuegos in expanding and employing SEDENA's own military police to provide internal security. Complicating matters, an AMLO administration is likely to revise or allow to die the controversial December 2017 internal security law, which clarified the authorities and circumstances in which the Mexican military can act in domestic matters, but has not yet implemented, due to legal challenges.
Finally, AMLO's left-of-center political base and a possible serious personality clash with his U.S. counterpart will make it difficult for his government to allow the same level of collaboration with the U.S. DEA, ATF, or military permitted by his predecessors.
In the economic arena, the deepening U.S.-China trade dispute could negatively impact Mexican producers (many of whom depend on the U.S. market, and are already hurt by the imposition of U.S. tariffs on their products). Moreover, the previously noted personality clash between AMLO and his U.S. counterpart increases the risk of unfruitful NAFTA talks and an escalating war of reciprocal tariffs. In this difficult environment, reductions in U.S. corporate taxes will particularly tempt companies focused on the U.S. market to relocate to the U.S.
Mexico's distance from the P.R.C. will limit its ability to compensate for lost access to the U.S. market with expanded exports to the P.R.C. (particularly agricultural goods), as with the limited success of similar efforts by the Peña Nieto administration in 2013. The protectionist character of AMLO's union-heavy support base will similarly complicate deals expanding P.R.C.-based construction and oil companies in Mexico, although AMLO will almost certainly travel to China and sign MOUs (more symbolic than implementable).
Hampered by intractable security and economic challenges, AMLO's most significant achievements may occur in foreign policy, parlaying indignation over the economic and security woes ostensibly caused by the United States, into the re-assertion of a Mexican regional leadership role, more critical of the U.S., while refusing to condemn bad behavior by leftist authoritarian regimes in Venezuela and Nicaragua, and welcoming expanded engagement with extra-hemispheric actors such as Russia, China.
With Mexico's current disputes with the Trump administration, and history of military conflicts with the U.S., a posture critical of the U.S., charismatically presented by AMLO, could find a receptive audience in Central America and the Caribbean, where Mexico has historically had influence, particularly since the region's regimes are similarly frustrated by U.S. immigration and other policies (including the end to TPS in Haiti, El Salvador, and Honduras, expanded deportations, and the prosecution of unauthorized border crossers). Reinforcing that receptivity, the P.R.C.'s resumed courtship of the nine Central American and Caribbean states which still diplomatically recognize Taiwan would give them expanded alternatives to their strong ties to the United States (through bonds of trade, investment and family), and thus added incentives to follow AMLO in a foreign policy more critical of the U.S.
In South America, AMLO is likely to be more isolated in a region which has moved to the political right, including the return of Sebastian Piñera in Chile, Ivan Duque's election in Colombia, and Martin Vizcarra continuation of the Kuczynski government in Peru. Yet the region's conservativism is increasingly divorced from its discontent with U.S. policies. Opportunities thus exist in there for an AMLO posture critical of the U.S. to find sympathy, or for Mexico to play a role in challenges such brokering a political transition in Venezuela, where AMLO's likely Foreign Minister Héctor Vasconcelos argues for Mexican neutrality.
In short, Mexico under AMLO is likely headed for difficult days, only partially related to his leftist inclinations, yet the challenges in economic and security matters may be only part of U.S. causes for concern in a region reoriented, in part through Mexican leadership.
"Mexico Likely to Elect 'AMLO' President--How Will It Impact the Region?" Newsmax, June 25, 2018, https://www.newsmax.com/evanellis/amlo-mexico-president-united-states/2018/06/25/id/868151/.