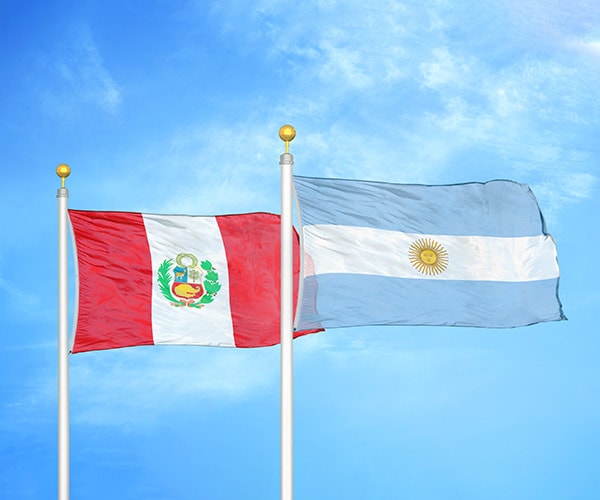 Left Trend in Latin America May Not Allign with U.S. Interests
The replacement of Pedro Castillo with Vice-President Dina Boularte in Peru, and the conviction and political disqualification of Vice-President Christina Fernandez in Argentina — each without substantial incident — are a testimony to the resilience of democratic institutions in both countries.
Despite the positive implications, however, both developments arguably help to stabilize and extend the region's unprecedented turn to the left and the commitments to statist projects by its governments.
The six-year prison sentence given to Argentina's sitting President Christina Fernandez for steering 51 public works contracts worth $1 billion to the company of family friend Lazaro Baez, during her presidency, demonstrates the enduring independence of the Argentine judiciary, despite longstanding attempts by her Peronist party to undermine it.
Fernandez will almost certainly not serve jail time.
As a sitting vice-president, she has a series of legal appeals.
The most important aspect of her conviction is her disqualification from future political office. It was critical that Fernandez publicly committed to not run for future office, either for the presidency, or for the Senate, when her term expires in December of 2023, although technically she could have run for either while her legal appeals are being processed.
Ironically, the controversial end to Fernandez' formal political career arguably bolsters the prospects of her Frente de Todos (FdT) coalition of holding onto power in the October 2023 elections, as well as the long-term challenge to democracy and stability in Argentina.
Given Argentina's poor economic performance under her government, including
100% inflation,
 an 
impending debt default
, and multiple 
corruption scandals
, Fernandez' formal departure from politics allows the Peronists to distance themselves somewhat from the problems that occurred on her watch.
As happened with the forced resignation of Bolivian President Evo Morales in November 2019, where Luis Arce could present himself as the more "moderate" face of Bolivia's MAS movement, Fernandez' departure allows the FdT to rebrand itself as moderate, downplaying the radical "la Campora" wing of the Peronist party affiliated with Fernandez.
As with Evo Morales in Bolivia, Fernandez, even more embittered and radicalized by her criminal conviction, will likely be able to play an influential role behind the scenes with the FdT coalition, while her conviction simultaneously helps to mobilize her supporters, who see her conviction as an unjust political prosecution by the right.
In Peru, the
December 7 ouster
 of President Pedro Castillo by Congress on the grounds of "
moral incapacity
," and the installation of Vice President Dina Boularte per the procedures established by the constitution was a testimony to the continuing strength of Peru's democratic institutions.
Anticipating the success of a third vote by the Peruvian Congress to oust him, President Castillo moved pre-emptively to dissolve Congress, paralleling the 1992 dissolution of Congress by then President Alberto Fujimori.
Seven of Castillo's own cabinet members resigned over the gesture, and Congress responded with 101 voting to remove Castillo instead, with only six voting against, and 10 abstentions.
The Peruvian police and military leadership, to their credit, quickly declared themselves committed to upholding the constitutional order. The Supreme Court swore in Dina Boularte without significant disorder within the country.
As with the conviction of Christina Fernandez, the empowerment of Dina Boularte paves the way for a more functional and potentially more dangerous left, with continuing inroads behind the scenes for radical elements such as the Free Peru movement of Cuban-trained Marxist neurosurgeon Vladimir Cerron.
Boularte, whose education and progressive agenda has made her a favorite of Peru's "caviar" leftist elite, was originally chosen to be Vice-President on the Free Peru ticket by Cerron. His degree of influence over, and sometimes conflict with her has been a matter of debate.
Her technocratic credentials, fatigue of Peruvians with the political chaos, and the support of a broad segment of Peru's left may position her to move more quickly in implementing a radical agenda than Castillo was able to do, although she faces a fragmented Congress led by conservative former military hero Jose Williams Zapata.
In the first days of her presidency, Boularte was obliged by public pressure to promise elections in April 2024, two years before the end of the presidential term established by Castillo's prior elections.
The early, strong support by the U.S. government for Boularte's ascension to the presidency, and some coincidence between her progressive agenda and Biden administration policy positions will likely help keep initial relations with the U.S. friendly, as with U.S. relations with other new left administrations including Colombia, Honduras and Chile.
Nonetheless, Boularte's positions on regional issues, and her likely need for deepening trade with and investment from the Pepole's Republic of China (PRC), may lead her government to increasingly diverge from U.S. interests.